Pundi Perempuan
08 June 2017 | Reporter - Komnas Perempuan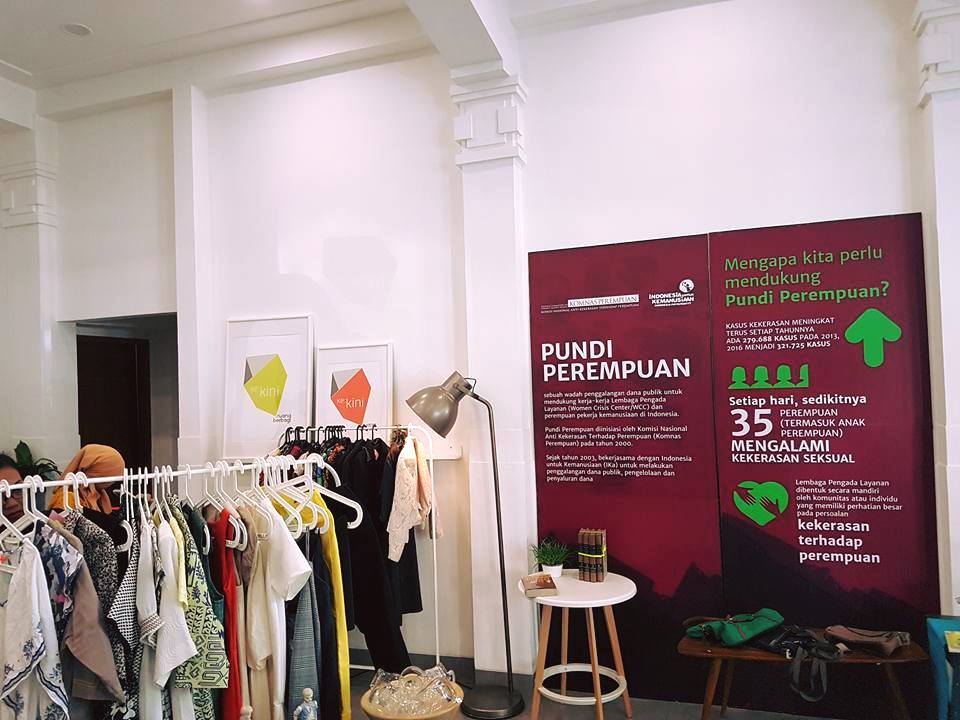 Photo Description
Pundi Perempuan
Pundi Perempuan is a fundraising initiative and a solidarity public fund to support women victims of violence. Funds raised are channeled into women's crisis centers, safe houses, and a wide range of assistance and recovery services for victims and their families. Funds are also channeled into healthcare for women human right defenders. This program was started in 2003 as a joint effort between Komnas Perempuan and Indonesia for Humanity (YSIK/IKA). Since that time, Pundi Perempuan has given support to three women human right defenders, three victim organizations and 52 service provider organizations for women victims, spread over 18 provinces in Indonesia. Pundi Perempuan regularly holds public activities such as garage sales, musical performances, and donor's meetings.
The high rates of violence against women in Indonesia are compounded by a lack of quality services providers that can facilitate legal aid, recovery and rehabilitation processes for women victims of violence. A number of service provider organizations have been forced to close because they have not been able to bear the burden of their operational costs. It was from reflecting on this problem that Komnas Perempuan initiated the Pundi Perempuan movement, to involve society in supporting the recovery of women victims of violence.
What are the goals of Pundi Perempuan?
Raise funds for women's crisis centers and service provider organizations that assist victims of violence against women.
Create a space that provides for community involvement in the handling of women's issues, especially violence against women.
Facilitate community support for women victims of violence through providing a channel through which funds and materials can be donated through in the interest of supporting the organizations and efforts for rehabilitation and recovery of victims of violence in Indonesia.
Accountability of Pundi Perempuan's fiscal management:
Pundi Perempuan's funds are managed by the Social Foundation, Indonesia for Humanity (YSIK).As part of its accountability and transparency to the community, each year Pundi Perempuan's funds are audited by a public accountant. Pundi Perempuan also regularly creates narrative reports and financial reports that are sent to all donors and the wider public in general.
Become a friend of Pundi Perempuan and support their work through:
Participating in Pundi Perempuan public activities and campaigns
Buying Pundi Perempuan campaign promotional products such as umbrellas, t-shirts or mugs.
Donating through Pundi Perempuan public activities or by bank transfer to Pundi Perempuan in the name of Yayasan Sosial Indonesia Untuk Kemanusiaan:
Bank Niaga Cabang Jatinegara – Jakarta Timur
No. Rek: 025-01-00098-00-3
A/n. Yayasan Sosial Indonesia untuk Kemanusiaan
Bank. BCA Cab. Matraman
No. Rek. 3423059008, A/n. Yayasan Sosial
Indonesia untuk Kemanusiaan
Bank Mandiri Cab. Salemba Raya
No. Rek. 1230005290004, A/n. Yayasan Sosial
Indonesia untuk Kemanusiaan
For further information please contact:
Komnas Perempuan
IKA (Indonesia for Humanity)
Jl. Cikini Raya No. 43 Jakarta Pusat 10330
Telp. +62 21 3152726