Komnas Perempuan Partners with Telkomtelstra Using Cloud Contact Center Technology
12 July 2018 | Reporter - Komnas Perempuan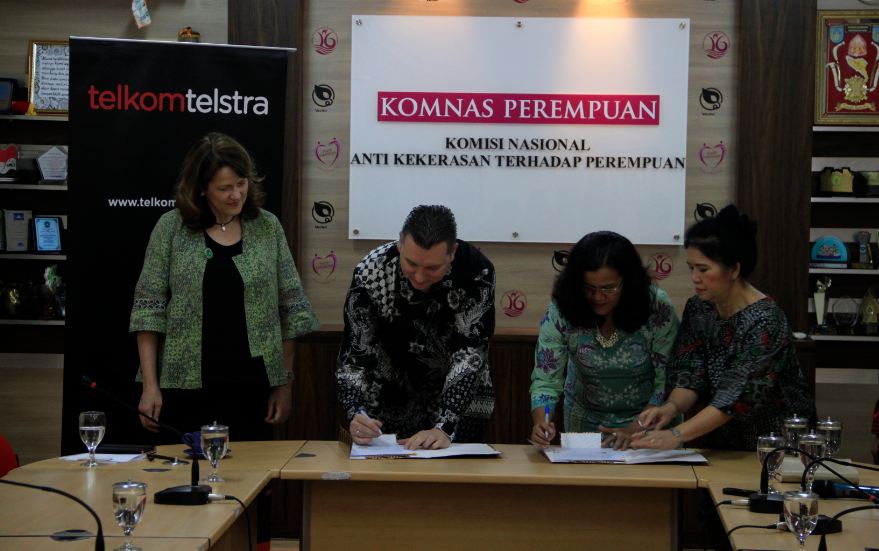 Photo Description
Komnas Perempuan Partners with Telkomtelstra Using Cloud Contact Center Technology
The National Commission on Violence Against Women (Komnas Perempuan) is partnering with Telkomtelstra to use cloud contact center technology to improve the efficiency and effectiveness of receiving complaints submitted to Komnas Perempuan by telephone (12/07/2018). The collaboration between Komnas Perempuan and Telkomtelstra is expected to increase the access of women victims to service providing institutions.
Komnas Perempuan has signed a principal agreement with Telkomtelstra for the development of a cloud-based contact center dedicated to providing technological improvements to Komnas Perempuan's phone line. The initiative will also be supported by Telkomtelstra's parent company, PT Telkom and Telstra, and its partner for its Cloud Contact Center, ipSCAPE.
This agreement was signed by Komnas Perempuan Chairman Azriana R. Manalu and President Director of Telkomtelstra Erik Meijer at Komnas Perempuan's office, Jakarta, Thursday (12/7). "This cooperation is part of the spirit of Telkomtelstra, which is in line with Ipscape partners, as well as Telkomtelstra shareholders, Telkom and Telstra. So it comes from the heart, and not from a business approach. We hope that with cloud technology, Komnas Perempuan's contact center is in the cloud, and the cloud is around the world so everyone can use it. Thus, volunteers from Komnas Perempuan can access the information and respond to complaints quickly from anywhere," Erik Meijer said during a speech.
Moreover, a number of benefits of Cloud Contact Center technology at Komnas Perempuan phone number will improve the efficiency and effectiveness of the contact center because of the availability of a number of new features that include, for example, Caller-ID. Volunteers of Komnas Perempuan can easily track callers, storing this information in data centers and reducing human error in writing down numbers.
Another feature is voice mail and voice recording to help victims who leave messages when faced with threats, so Komnas Perempuan can listen to recordings and call back at the most appropriate time. This system in the future will help Komnas Perempuan to provide more comprehensive data and information to be included in reports.
This technology can also support Komnas Perempuan in monitoring case progress. After Komnas Perempuan refers the victims of violence to the service providing organization, this system can assist Komnas Perempuan to monitor the progress of the case periodically by making a call from the database provided.
Of all the advantages of cloud contact center solutions, this technology can also increase Komnas Perempuan's flexibility for future scaling as well as minimizing investment and cost for space, supporting infrastructure, electricity, security, and hardware.
Chairman of Komnas Perempuan Azriana said that she deeply appreciates Telkomtelstra's support. "This cooperation is very important for us, because while the complaints from women victims of violence are increasing, it is difficult to increase Komnas Perempuan's resources to respond to these complaints. The support of cloud technology from Telkomtelstra becomes a solution to overcome this," she explained.
In addition, she added, the services offered by Telkomtelstra match the needs of Komnas Perempuan. "Some features such as tracing incoming calls – these are certainly what we need," she said.
She explained cases of violence against women tend to increase every year. According to Komnas Perempuan's Annual Record, in 2017 there were more than 348,000 cases of violence against women reported. " We are very concerned that the number (of cases) continues to increase every year. The awareness of women who become victims of violence is increasing but the government needs to take responsibility and increase their response to gender based violence."